Being not satisfied with what you get is a great start for progress. But when we get stuck and hardly can get things done, sometimes we need theoretical and practical advice on how to get more in less time. Productivity books are a source of knowledge about how our brain works, how our habits are built, and how to make them work for us. So here's a list of books that cover all aspects of productivity and efficiency, combining scientific facts and practical steps to the success.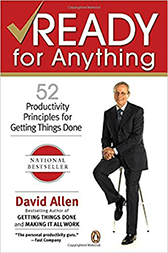 What's the first excuse for not taking an important step? "I don't feel ready for that", most of us say or think. Sometimes we keep not being ready for years, unable to get things moving and stuck in what we'd like to change. In his book, David Allen tells us how to get ready for anything. The author shows the ways to discover creativity, increase the ability to work without stress and overload, and finally take efficient actions.
Heard of, read or wrote a better productivity book? Submit it at productivity@actitime.com!