Being not satisfied with what you get is a great start for progress. But when we get stuck and hardly can get things done, sometimes we need theoretical and practical advice on how to get more in less time. Productivity books are a source of knowledge about how our brain works, how our habits are built, and how to make them work for us. So here's a list of books that cover all aspects of productivity and efficiency, combining scientific facts and practical steps to the success.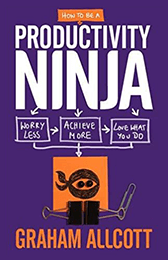 Beating procrastination requires extraordinary habits? Then Graham Alcott's book will show you the path of the productivity ninja: the author describes techniques that will help you stay concentrated, reclaim your Zen and master the jitsu of getting things done. "How to be a Productivity Ninja" is a fun and helpful guide to developing mindful approach to your work and being productive.
Looking for a practical solution to become more efficient? actiTIME is here at your service!
With this intelligent timesheet software, you may track hours spent on work or other daily activities and analyze your behaviors by running comprehensive performance reports. Combine this simple practice with the theoretical knowledge learned from the best productivity books to identify time wasters and develop healthier time use habits for superior productivity outcomes. Boost your business with actiTIME, sign up for free trial